Custom Rwanda Gorilla Tours
We offer tours that you can customise to fit your choice of travel style. Take a look at some example Rwanda gorilla safari packages.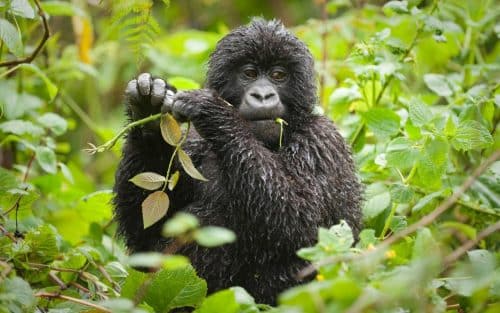 See the mountain gorillas of Rwanda in their African tropical jungle forest and visit Kigali city.
3 Days, 2 Nights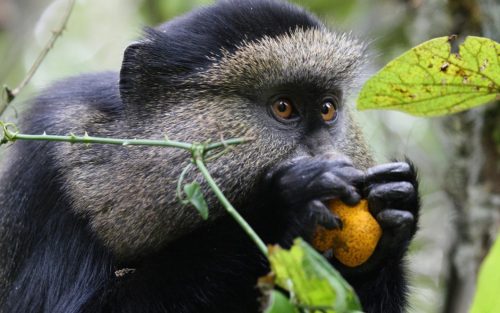 A Tour to Rwanda's Volcanoes NP to see gorillas & track endangered golden monkeys.
3 Days, 2 Nights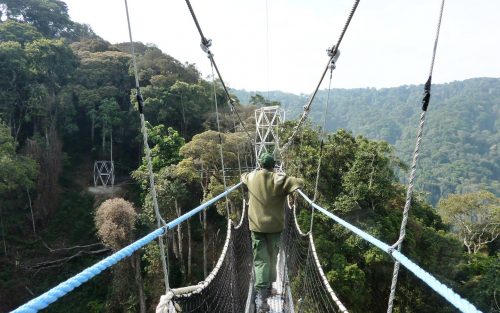 Walk the tree-top canopy in Nyungwe forest National park and meet the chimpanzee primates.
4 Days, 3 Nights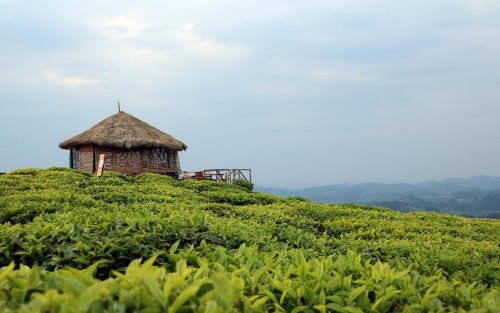 You'll be visiting Rwanda's two major destinations, Volcanoes and Nyungwe forest National Parks
4 Days, 3 Nights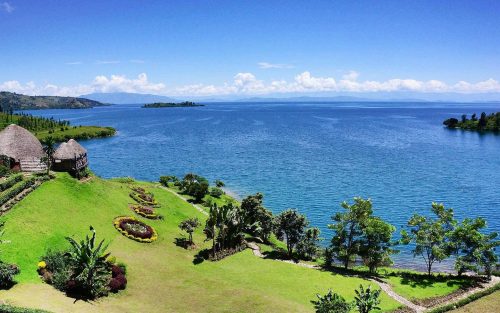 Track the gorillas in the mist and late take a relaxing holiday at Lake Kuvu's sand beaches
4 Days, 3 Nights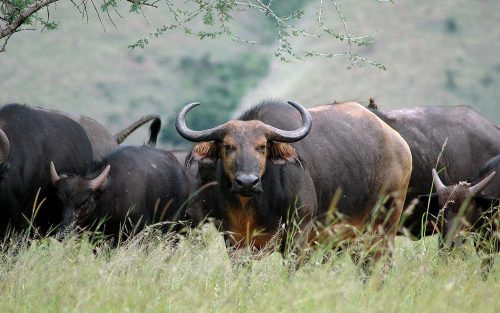 Traverse Rwanda's savanna plains and take this African trip the jungles of Volcanoes National Park
5 Days, 4 Nights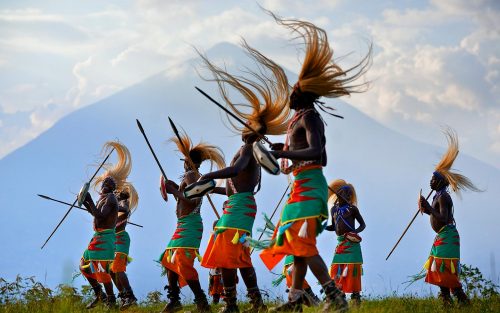 Explore the Rwanda jungles, see the mountain gorillas, experience the culture and a safari drive.
5 Days, 4 Nights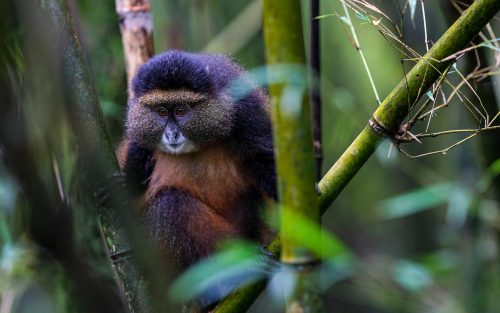 You will visit Mgahinga Gorilla National park for Golden monkey tracking experience.
4 Days, 3 Nights
A Gorilla Adventure in Rwanda
All Inclusive, Custom Made, Guided African Safaris in Rwanda
If you move a little inland from the tourist hotspots in Kenya and Tanzania, a different continent begins to emerge and you find some pretty spectacular scenery. The continent becomes more mountainous, more rugged. And only here, in the mist-covered mountains of Rwanda and Rwanda, you'll see the largest and rarest specie on the planet: the mountain gorilla.
Rwanda has tremendously grown from the 90's atrocities that crippled the country to a destination that can compete with the giants African safari destinations like Kenya. It is in the borders of Rwanda, Uganda and Congo that you'll find one of the most sought after animal in the African jungle, the mountain gorilla. Obviously tracking the mountain gorilla is the biggest crowd puller and jewel for this tiny Eastern Africa destination but you can also catch sight of the big African game in Akagera National Park, spend a relaxing holiday on of the famous Lake Kivu sand beaches, dance with the cultural natives, tickle your test buds in Kigali and take back home a bag of experiences and stories.
Discover the wonders of an unforgettable continent with a private/group trip to Rwanda. Regardless of your budget, trip length or activity preference, our Rwanda Safaris are specifically designed to help you make the most of this awe-inspiring country. Talk to one of our consultants to help you plan a Rwanda safari or combine a Rwanda Gorilla safari with the neighboring African big game destinations like Uganda and Kenya.
LET AN EXPERT HELP YOU PLAN YOUR RWANDA SAFARI.
NEED TO KNOW
Rwanda is a small, land locked country in eastern/central Africa of approximately 26,340 sq. km. It has five prominent volcanoes and 23 lakes and several rivers. A large part of the country has an elevation of between 1,500 and 2,500 meters. The highlands in large parts of the country are now dominated by the terraced agriculture that gives the Rwandan countryside its beautiful and pleasant character. Average temperatures are between 24–27deg with the hottest months from Aug–Sept.
Official Rwanda languages; Kinyarwanda, French, English & Kiswahili
Practical Information Before You Travel To Rwanda
Before you make your journey to majestic Rwanda, use the information featured in this section to plan your trip and make the most of your time here, information ranges from; entry requirements, safety tips, how to get around to weather conditions, currency and accommodations. Your trip planning starts here and we've got you covered!
CURRENCY
Local Currency: Rwanda Franc (RWF). Approximately Rwanda Franc 833 = 1 US Dollar (January 2019)
ENTERING RWANDA
You have to present your identification documents when entering Rwanda, like your ID card or passport and, depending on your country of origin, a stamped visa. The visa documentation MUST BE DONE in prior to your arrival irrespective whether you fly in or drive there.
You are advised to ensure that your passport is valid for a minimum of six months and has several clear pages for visas prior to departure. If you are traveling on a British Passport new regulations require that your passport is valid for 12 months for entry into Rwanda. It is suggested that you check your status as regards visas prior to travel with your agent or Outback Adventure Safaris; they change on a regular basis, and some of these states embassies will INSIST you get one prior to travel, whereas they may be freely available on arrival.
AUSTRALIA, GERMANY, ISRAEL, NEW ZEALAND, SOUTH AFRICA, SWEDEN, UK AND USA are issued with a Rwandan entry visa upon arrival without prior application. The single entry visa fee is $30 and is valid for a period of 30 days while the multiple entry visa costs $ 50.
Nationals of SINGAPORE, HONG KONG, MAURITIUS AND PHILIPPINES are exempt from entry/tourism visa for a stay up to 90 days. EAC nationals will be issued with a 6 months' visitors pass (renewable) at entry points with no fee.
All other nationalities will be required to purchase visas with the cost varying, depending on the nationality, up to USD60 for a single entry. These countries should apply for a visa BEFORE traveling and pay the pre-subscribed fee.
For more information about entering Rwanda, visit www.migration.gov.rw
All visitors / tourists (by road and air) who are not eligible for the free 90-day entry into Rwanda or able to get their visa upon arrival without prior application are required to complete an "entry facility application" on the Rwandan immigration authority's website under the topic "Public service" click on "entry facility" and on the form, that appears clients fill in the basic details like name, passport number, arrival date and port of arrival – and submit it over the web. It is advisable for clients to process this application as soon as possible to allow plenty of time for the application to be approved. It's good for clients to print out a copy of their submission in case their copy is not at the visa counter when they arrive.
TRAVEL INSURANCE
It is strongly recommended that you are covered by some type of medical insurance before you grab that flight for the Rwanda Gorilla Trekking Tour experience. Talk to your travel consultant about this. Should you require further information please do not hesitate to contact us. Minimum cover is recommended to be at least $80 for medical and related expenses.
HEALTH
Yellow Fever Vaccination is a requirement when travelling between East African countries, and should you be flying into SA after visiting East Africa. This must be done no later than 10 days prior to your departure.
Typhoid may be requested from the authorities when crossing into Rwanda, although such a request is unusual. This can be done by your local GP or through a travel clinic.The tablet form of the vaccine is also available in certain pharmacies. Tetanus is also recommended, as is Cholera, but are not compulsory.
Hepatitis Vaccination is at the discretion of the traveler. If you have a history of liver disorders (hepatitis etc.) you must consult your physician first.
Malaria prophylactics are a must and can be purchased from your local pharmacy. Please consult your pharmacist/doctor. It is also a good idea to bring some insect repellent with you to spray on yourself in the evenings and early morning when mosquitoes tend to be about.
Diarrhea. A good personal hygiene and control over the quality of your drinking water to avoid this, bottled water is readily available throughout the country, but take along some medicine in case, particularly if you are planning to spend some time traveling alone and not with a tour operator. We recommend that guests either buy bottled water, or take along water purification tablets and look after your own drinking water.
As with all medical requirements, your doctor or travel clinic will provide the most up to date information; the above is a guide only.
PRIMATE TRACKING HEALTH REQUIREMENTS
Mountain gorillas and Chimpanzees are highly susceptible to human diseases including flu and colds. If you are participating in a gorilla / chimp trek then you need to be free of any visibly contagious diseases and this is checked at the start of the trek by the Park Authorities. If they are in any doubt of your condition, they reserve the right to prevent you from continuing on the trek. Our advice is that if you feel you are worried about this aspect, you please inform your safari guide as soon as possible, and he will seek advice as to the best way to manage the situation.
WEATHER
Live updates on weather in Rwanda are available here:
Rwanda Weather
FLIGHT INFORMATION
Live updates on flights in Kigali International Airport, Rwanda are available here: Kigali Airport Live Data from Airline
LUGGAGE AND IMPACT TRAVEL
Due to space limitations in the vehicles it is imperative that luggage be kept to a minimum. We suggest a barrel or soft bag (15 kg maximum) for your main gear, plus a camera bag or smaller 'day pack' for inside the vehicle. Samsonite / hard bags / suitcases, etc. are not suitable as it makes packing very difficult. If you are traveling internationally with one we suggest you repack Safaris Tour items into your soft bag, before the safari, and then leave your hand suitcase at your return point e.g. Entebbe Hotel to collect later.
CHARTERS LUGGAGE ALLOWANCE
If you are traveling on a light aircraft within Rwanda, then the luggage restriction is dependent on combined client and luggage weights and varies from plane to plane and routing but usually only up to 10kg per person in soft bags and this is strictly adhered to for safety reasons. Please check your personal allowance on confirmation of itinerary and aircraft.
GORILLA TREKKING CLOTHING
On a trip through Uganda/Rwanda you can experience all four seasons. It will also be necessary to take some wet weather gear as it does rain in the mountainous areas of Uganda and Rwanda on a regular basis. We suggest lightweight rain gear for the hike to view the gorillas.
During your safari in Africa, depending on the style of African Safari chosen, the dress code may vary slightly. Due to strong cultural norms, women are advised to cover knees and shoulders when in a rural village or market. None of the lodges/hotels insist on any formal type of dress – ties, jackets etc. The norm would be casual or smart casual depending upon the level. In towns and cities, and at certain of the more up-market lodges and hotels then long pants and shirt / golf shirt would be more appropriate (especially in the evenings), or ladies may wear a skirt of course!
Bush gear i.e. hard wearing clothes, no bright colors, e.g. greens, khaki and similar neutral clothes are recommended. In the day time on safari, generally shorts or lightweight trousers, t-shirts, hat, sunblock etc. are recommended as it is generally fairly warm (25-35 degrees C average). Avoid wearing blue colors in areas where you may find tsetse flies, as they are often attracted to these colors, (this would be in small parts of Murchison Falls for example, check with your guide).
We suggest you take something warm e.g. tracksuit, fleece or sweater for the mountainous areas like Bwindi or Virunga as they are at high altitudes and will therefore be cooler in the evenings. – a rain jacket/anorak is also suggested as it rains, regularly in the in the rain forest areas, even in the drier months. Long trousers and long sleeved shirts are also recommended for general evening use to assist in the prevention of mosquito bites and also as it's generally cooler than during the day.
While gorilla and chimp tracking, you will need a comfortable, hard wearing, pair of walking shoes or boots as the conditions are generally very muddy/slippery. There are uphill sections which may be quite steep and strenuous. It is also advisable to wear a long sleeve cotton shirt and lightweight long trousers to protect yourself from the undergrowth, stinging nettles and biting ants. (Tracksuit pants often get caught on bushes, thorns, etc. and jeans can get very heavy when wet). Gloves are also highly recommended when tracking mountain Gorillas in Rwanda– just cheap gardening gloves will do – this will prevent your hands being scratched when holding onto vegetation for support through the dense parts of the forest. Tuck your long pants into your socks/boots to avoid biting insects. Your clothes will in all likelihood get very muddy and may not recover to their original state – therefore it's advisable to take old clothing for the gorilla trekking.
IMPACT TRAVEL
A suggestion from previous Outback Adventure Safaris guests is to mention that if people want to help the poorer Rwandans, they could bring used clothes, shoes and other items that you may not be needed any more with them to give to appropriate organizations/places.
If you are interested in this option you should advise Outback Adventure Safaris before your travel as we can set up times or days on safari in Rwanda where you can visit an orphanage, or school, assist or give a donation for "something specific". Or Outback Adventure Safaris can refer you to various organizations that we work in conjunction with for various community assistance and uplift programs, we can monitor and ensure that the appropriate funds are received by the right people! Handouts of money (except as genuine tips) sweets, pens etc. is highly recommended be avoided. It creates a system of begging and invariably causes fights amongst the children when there is not enough to go around.
SAFETY TIPS
Your personal safety and well-being is our prime concern. Please take care of all your personal possessions at all times. DO NOT TEMPT petty theft and pickpockets by displaying large amounts of money, especially when near markets or in the center of Kampala / Entebbe / Kigali. If you come to Rwanda or Uganda, these are some tips that will help you have a safe and pleasant experience;
When visiting the country, and just like in every other major city in the world you must look after your bags and suitcases to avoid theft and have a safe experience in East Africa.
Carry copies of all your important documents including your passport.
Avoid walking alone at night on the outskirts of towns.
Valuables: When leaving the vehicle in towns, please ensure all the windows are shut and that you take your valuables and cameras with you for safe keeping. Don't carry flashy valuables while walking on the street. (especially cash, travelers cheques' and credit cards should be kept on your person at all times. A "moon bag" or "body belt" is a useful item for storing cash and other valuable small items.)
Always carry a map with you and the address of the place you're staying at.
If you travel to places away from cities, carry a first-aid kit with you and probably names of the medication you may need, in English.
When at lodges / hotels we highly recommend you either keep your money and valuables with you or utilize the safe keeping facilities provided at the various establishments. Please also be sure to check your room and ensure you have everything packed before moving on to a new place.

ACCOMMODATION AND TRANSPORT

Depending on the class or style of your safari or tour with Outback Adventure Safaris, your accommodation in Rwanda may range from high end class to medium class. There are many different styles of accommodation in Rwanda varying from large hotels to smaller more intimate lodges and tented camps. Please consult your personalized itinerary for full details of each place you will be staying on your safari in Rwanda or check out Accommodation.

Should you stay in the more modest local hotels/guest houses you will have the use of showers and toilets, hot water cannot always be guaranteed. The hotels/guest houses themselves are very basic and generally clean, the staffs are friendly and helpful. These hotels/guest houses are mainly utilized by local businessmen as not many tourists pass through these areas. They can be fairly noisy, especially on weekends but the atmosphere is friendly and accepting. Food is generally good, hearty African fare, sometimes there are European/Western items available.

SAFARI ROAD CONDITIONS

While traveling through Rwanda, you will be mostly on tarred roads and they are in a reasonably good condition by African standards. There may be some VERY LONG days in the vehicle, but the interesting and diverse lush scenery generally makes up for it! There are however, some really bad sections of dirt road, especially in the more mountainous areas. In these areas travel will be slower, quite bumpy and there could be a lot of dust experienced en route. There are options for scheduled or charter flights for the longer routes – please enquire for prices and feasibility of this.

The Outback Adventure Safaris Vehicles you will be traveling in are customized 4×4 vehicles which have been converted for local conditions; they have good leg room and seat between 4-7 persons, depending on the seating configuration, and have opening roof hatches for optimal game viewing. They are a little slower on the road than a saloon vehicle or a smaller 'family' 4×4 and do have air conditioning.

Your safari vehicle will generally used throughout your safari in Rwanda for traveling between destinations as well as for game drives and other activities at the lodges and within the National Parks.

HOTOGRAPHY AND VIDEOGRAPHY

There is no charge for personal filming of gorillas during the Outback Adventure Safaris Tour and other scenes with personal video cameras in Rwanda safe inside the genocide memorial.

Professional photographers, film makers or media should advise us at the time of booking as special procedures are required as well as costs to be incurred for photographing and filming.

Most lodges operate on solar power and so have limited facilities for charging batteries and some none at all, so come prepared with extra, just in case and charge up where ever it is possible en route on your safari in Rwanda – do not wait until down to your last battery!

Do not photograph any government buildings, police or military posts. Ask permission before photographing local tribesmen. For gorilla photography, a 35 – 70 mm zoom, or 50 mm fixed is usually sufficient, but you may want to carry a longer lens but remember you may well be in low light conditions. Take fast film if using film (200-400 ASA plus), as you are not allowed to use a flash. Please check your camera beforehand to ensure you know how to turn it off manually.

Game & bird photography obviously longer lens would be recommended 80-300mm ideally.

Do not spend all your time with the gorillas trying for the classic photograph, look around you and observe and enjoy these gentle animals.

CONSULATES/ EMBASSIES

Follow the link to the list of all Embassies & Consulates in Rwanda

NATIONAL HOLIDAYS

Follow the link to all National/Public Holidays in Rwanda