Murchison Falls National Park- The Jewel of the Nile
Murchison Falls National Park was named after the breath-taking spectacular waterfalls along the great Nile River which in 1864, Sir Samuel Baker a British explorer chose to name Murchison, in honour of the distinguished President of the Royal Geographical Society. Murchison Falls Conservation Area covering 5,072 square kilometres is one of Uganda's largest and oldest protected areas lying at the northern end of the Albertine Rift Valley
The Water Falls
The dramatic waterfalls which is the mainstay of the Murchison falls National Park is where the Nile, the world's longest river contracts from a grand stream to explode violently through a narrow six meter gorge into the cauldron of turbulent water 40 meters below which is popularly known as the Devil's cauldron. According to Samuel Baker, the water falls is the most important object throughout the course of the river.
History
Murchison Falls National Park boundaries were gazetted in 1952 by the then British Colonial government after surveys and negotiations with the local district administrations of Bunyoro and Acholi. In August 1954, the Board of Trustees for the Uganda National Parks made decisions on the lay out and the design of the park. This was followed by the opening up of the tracks to more remote corners of the park such as Rabongo forest and the Chobe Sector. Besides the magnificent Nile bisecting the park, Murchison Falls became famous for the abundance of wildlife populations in the lush borassus grassland particularly on the northern banks of the River, including herds of Elephants, Buffalos and Giraffes marauding the plains and woodlands. In the 1960s, the estimated population of elephants was close to 16,000.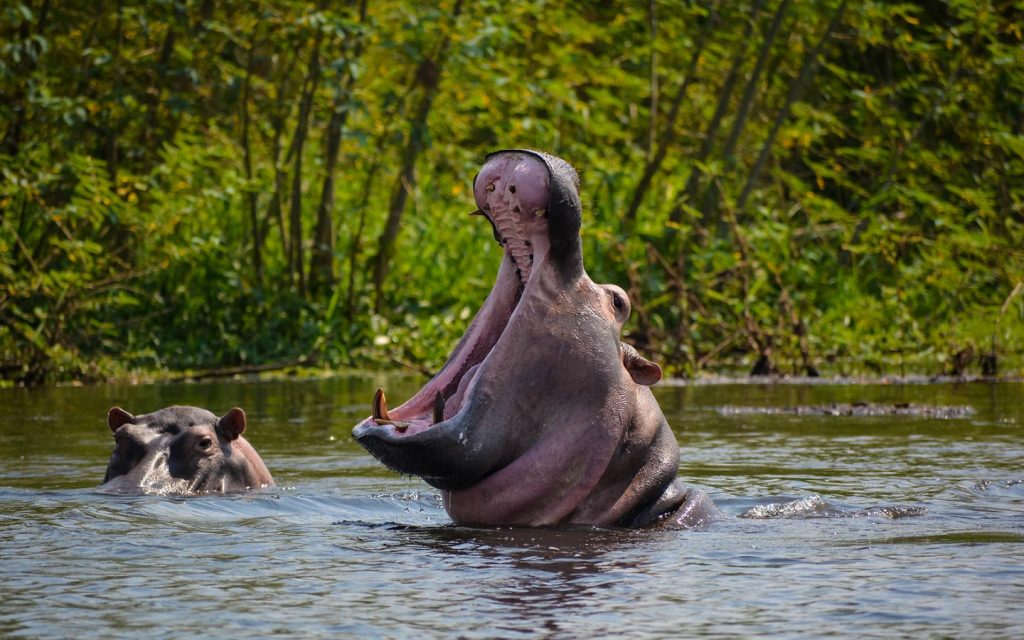 Murchison Falls National Park has received many notable foreign visitors; In 1907, Winston Churchill hiked, boated and bicycled up the Nile corridor to the falls and he was followed by Theodore Roosevelt in 1909 during a hunting safari that cost, by today's prices, a phenomenal US$1.8m!
In 1951, the Murchison falls provided a backdrop for Humphrey Bogart in John Huston's famous movie, The African Queen which was filmed on a location along the Murchison Nile and on Lake Albert. British royals have also visited Murchison falls National Park, the Prince of Wales (later Edward VII) in 1930 and the Queen Mother in 1959 the fauna diversity of the park. The least happy celebrity visitor was Ernest Hemingway in 1954 that literally dropped in. His intention was simply to overfly the waterfall but his plane clipped an old telegraph wire strung across the gorge and cartwheeled into the river line forest. Hemingway and his wife were rescued and taken to Butiaba where their rescue plane crashed on takeoff
Between September 1972 and October 1973, the flourishing park suffered a setback when the then President Idi Amin imposed a ban on foreign visitors. The Park was also renamed Kabalega Falls after the famous king of Bunyoro who resisted colonization efforts by the Ottoman Empire and the British.
In the mid-70s, most of the conservation activities came to a halt prompted by unabated poaching that rose to unprecedented proportions. The Murchison Falls National park also suffered mass poaching and the wildlife population was largely threatened during the 20 years of insurgency by the rebel armies which had turned the park as food basket and shooting target with the herds of animals as their subject. However, with the return of peace to the northern region, Wildlife populations have largely recovered.
During the popular game viewing drives, a variety of Antelopes, Elephants, Giraffes, Buffalos and Lions are regularly encountered with increasing frequency.
Activities in Murchison Falls National Park/ Things to Do in Murchison Falls National Park
Your Uganda Safari to the Murchison Falls National Park will be rewarded with the following activities that will make your safari a memorable one:
Game drives
Bird watching
Hiking
Chimpanzee tracking
Nile River cruises/ boat ride
Camping
Nature Walks
Game drives in Murchison falls National Park
Game drives during your safari in Uganda at the Murchison Falls national park will take place either early morning or late afternoon because, during this time, animals are up and active. Game drives are done following well-established tracks like the Buligi track, Albert track and Victoria track where you will see and take photos of wild animals like; elephants, Buffalos, Lions, Leopards, Duikers, Topi, Eland, Giraffes and many more.
Bird watching in Murchison falls National Park
Bird watching safaris in the Murchison falls national park during your holiday safari in Uganda can take place when doing game drives following tracks that go through the Nile delta, the Nile delta is characterized with marshes where you will spot a number of  bird species like; the shoebill stork, pied kingfisher, malachite kingfisher, grey heron, grey crowned crane, swamp flycatcher, and giant kingfisher. More birds like; African jacana, blue-headed coucal, sandpipers can be spotted during the launch cruise upstream to the bottom of the falls, and during nature walks.
Hiking and nature walks
You can explore the wilderness on foot while on your safari in Uganda at the Murchison Falls national park. The trail at Paraa winds through low hills, gullies and the forest around the river. Nature walks and hiking in the Murchison falls national park also take place at top of the falls, in Kaniyo Pabidi forest, Budongo forest and Rabongo Forest where you can explore primates like the Red-tailed monkeys, Black & white-coloured monkeys, Chimpanzees, birds, trees and medicinal plants. Kaniyo Pabidi is a tranquil natural forest within 8 Km from the park's Kichumbanyobo gate that is most famous for chimpanzee tracking, where you can walk beneath mature mahogany and ironwood trees where you will see many forest birds, including; the Chocolate backed Kingfisher, Puvell's Illadopsis, and White-thighed Hornbill found nowhere else in East Africa!
Launch cruise/ Boat cruise
During your holiday safari in Uganda, you will get onto a Launch cruise that will start at Paraa area riding you to the bottom of the falls; as you ride on the cruise, you will sight schools of hippos in the water, waterbucks, crocodiles, buffaloes and herds of elephants while on this cruise. Waterbirds such as cormorants, Fish eagles, ducks, Kingfishers, bee-eaters and the shoebill can also be seen. The scheduled cruises take place between 9 am and 2 pm daily; however, we can arrange exceptional schedules with the different service providers or park management. The Cruise to the bottom of the falls takes 3hrs and covers a distance of 17Km while the Cruise from Paraa to Nile River Delta is 28km and takes about 4-5hours.
Fishing Safaris in Murchison falls national park/sport fishing
Fishing in Murchison falls national park during your safari in Uganda is an activity along the Nile that is mostly done as a sport and where large fish like Nile perch and catfish are caught using lures while smaller fish like tiger fish are caught using live baits like worms and termites.
Sportfishing in Murchison falls national park is characterized by anglers catching fish along rocky surfaces that are at the bottom of the falls and also along the banks of the Nile River, though caution has to be taken when fishing along the river banks as the waters are infested with hippos and crocodiles.
Murchison falls national park has two major fishing sites; one is located below the Murchison falls and another at Chobe safari lodge below Karuma falls. However, sport fishing in the park is currently carried out mainly at the base of the falls either from the boat down the stream or from the rocks on the Riverbank.
Fishing spots along the Nile can be either accessed by boat or by walking down from the top of the falls to the gorge which takes about 45 minutes and is recommended for a person that is physically fit and you are required to move well equipped with your fishing gear. As you enjoy catching fish there is always a chance to land on a huge catch; in terms of length, weight and width. In fact, the record has it that the heaviest fish ever caught at the Murchison was a 113kg Nile Perch.
When to go fishing at Murchison Falls National Park
Fishing in Murchison falls national park during your Uganda Safari can be done any time of the year and is characterized by the catching large catfish and Nile perch. Most Anglers say that best catches are seen early morning and late in the day. Though best catches are when the water is clearer due to low water level especially from Mid-January to Early-April and it is also believed that fish feed more when weather conditions vary dramatically especially at the start of the rainstorms.
Condition for fishing
As you go fishing you will be surrounded with great sceneries like the lush dramatic landscape and wildlife like; hippos, crocodiles, elephants, waterbucks as well as a number of water birds.
N.B: You are advised to carry sunscreen of skin protection because the temperatures can rise up to over 40°C and long socks, long-sleeved trousers and insect repellent that will be used to prevent tsetse fly bites. Sportfishing requires expertise; therefore you will need assistance from our experienced and skilled anglers for a memorable experience.
Fishing Equipment and Methods
Anglers are reminded to carry their fishing equipment and to also keep in mind that all fish caught are not killed but laid back in the water alive. Examples of fishing methods are; casting lures, spinning and catching fish on live bait and
Fish species caught include Nile perch, Catfish, Tigerfish among others.
N.B: All anglers are advised to have rods that are between 8feet and 11feet with a multiplier reel. While catching smaller species; a 7' spinning rod is recommended.
Sample fishing itinerary
3 Days Fishing Safari at Murchison Falls National Park
Tour Overview
This 3 days fishing safari in Uganda will start from Entebbe and end in Entebbe, it involves a visit to Uganda's largest national park; Murchison Falls National Park which is home to over 76 mammal species, 451 bird species, different fish species, and observing the mighty Murchison falls that push their way through an 8 meter wide gorge falling from a 45m high rift valley wall. The focus of this Uganda safari is Fishing, though you could participate in other activities like Game drives and Hiking to the top of the magnificent falls. You will travel in 4×4 vehicle, one with enough room to accommodate your fishing equipment.
Detailed Itinerary
Day 1: Entebbe/Kampala to Murchison
Pick up from your hotel in Kampala or Entebbe and start of the 6-hour drive to Murchison falls that will be characterized by seeing amazing landscapes, savannah vegetation and colourful people along the way. Have lunch either at Kabalega dinners or in Masindi before continuing to the park. Upon arrival, head to the base of the falls and enjoy fishing the whole afternoon- this takes around 3 hours. You will be overjoyed with the big catch of the Nile perch in the dramatic pools at the base of the falls. After heading to the lodge, have dinner and overnight.
Accommodation Options; Paraa safari lodge and Baker's lodge (Upmarket), Murchison River lodge and fort Murchison (Moderate), Red Chili camp (Budget)
Accommodation Plan; Full Board
Day 2: Fishing along the river and at the Murchison Falls
After breakfast, you will ride in a boat while fishing along the Nile River bank up to the base of the magnificent Murchison falls, here you can catch Nile perch, catfish many other species. You can either choose to spend the whole day fishing or fish half-day and spend some time hiking to the top of the mighty falls which is a memorable experience. While taking the boat ride, you will also enjoy looking at the lush vegetation and wildlife lined up along the riverbank in the park such as the hippos, elephants, buffaloes, Nile crocodiles, birds among others.
Accommodation Options; Paraa safari lodge and Baker's lodge (Upmarket), Murchison River lodge and fort Murchison (Moderate), Red Chili Camp (Budget)
Accommodation Plan; Full Board
Day 3: Game drive and return to Entebbe/ Kampala
You will go for a game drive right after your breakfast, driving through the park where you will see and take pictures of a number of animals like lions, buffaloes, antelopes, waterbucks, warthogs, elephants among others. Right after the game drive, you will leave the park for Entebbe/Kampala with lunch at Kabalega dinners along the way arriving in the late afternoon. If your flight is on that same day, a complimentary airport transfer will be offered to you.
Included in tour; Boat cruise, Skipper/angler, sport fishing permit, transport, Park entry, accommodation, meals as per itinerary.
 Excluded in a tour; Visa, international flight, tips, souvenirs, alcoholic drinks, laundry, and any item of personal nature.
Entebbe International airport and Kajjansi Airstrip in the center of Murchison Falls National Park from where your Guide will pick and drop you to your Lodge.
How to get to Murchison Falls National Park.
Murchison Falls National Park is located in Northwestern Uganda with a road distance of about 305Km and an approximate 6-hour drive from Entebbe or Kampala city. The Park has many different entry points, however, Kichumbanyobo gate is the one mostly used by visitors from Kampala. For those visitors that are not strong enough to endure this amazing drive or those with less time to spend on the safari, Outback adventure safaris has established partnerships with local charters which depart either from Entebbe International Airport or Kajjansi airstrip for a flight which takes about 40 min to Pakuba airstrip right in the middle of Murchison falls national park.
Sample Itineraries
2 days Murchison falls National Park
3 days Murchison falls National Park
4 days Wild game and primate experience to Murchison Falls