Bwindi Impenetrable National Park
Elevation: 1190-2607
Size: 321 Sq. Km
Bwindi Impenetrable National Park is the derived from a local bakiga word "Omubwindi" which means impassable, the bakiga are a dominant tribe in Kabale district where Bwindi forest is located and as the word suggests, the forest is almost impassable and is regarded as one of the oldest tropical rain forest dating back as far as 25,000 years. The impenetrable forest is home to the famous mountain Gorilla and is believed to host half of the world's mountain gorillas.
The number of mountain gorillas in the world has been estimated to be 1008 individuals and out of this, more than half reside in Bwindi Impenetrable National Park. The Park also remains the only one in the whole world where mountain gorillas co-exist with wild chimpanzees although there is no chimp trekking since no community has been habituated.
Facts about the Mountain Gorilla in Bwindi
The name gorilla is derived from the Greek word "gorillai" which has an English meaning of hairy women. There are different types of gorillas in the world, the eastern gorillas and the  western gorillas, however those found in Uganda's national parks; Bwindi impenetrable national park and Mgahinga national park belong to the mountain gorilla (gorilla beringei beringei) species which is a subspecies of the eastern gorilla (Gorilla beringei) and are listed on the IUCN list as endangered species, because of having a low population that is estimated to be 1004 individuals and a low survival rate in captivity.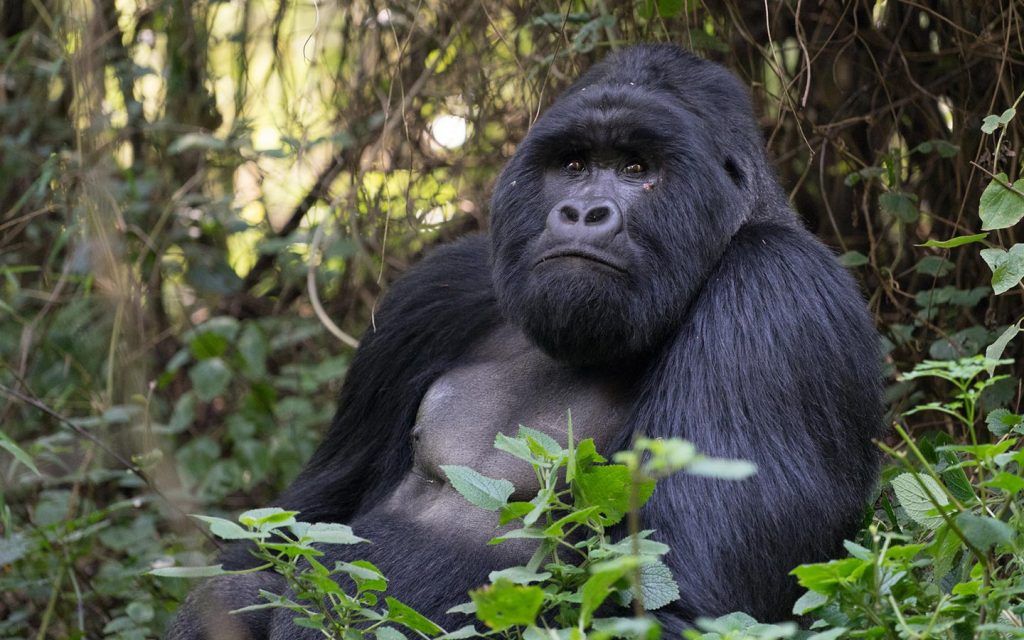 Mountains Gorillas have characters similar to human beings like having a family group that is headed by a silverback – who is a mature male – he selects places where the group will eat and sleep, and gets many privileges, including the right to feed first which privilege pays off for the rest of the family, as if the group is threatened, the silverback – weighing up to 160kg (260lbs) – will defend them to the death, if necessary.
Bwindi Impenetrable Forest has several habituated gorilla families located in different sectors of the Park. Three gorilla families are in Buhoma and these are Mubare, Habinyanja and Rushegura. Ruhija side has Oruzogo, Bitukura and Kyaguliro. Nkuringo side located in the southern part of Bwindi has one gorilla family known as Nkuringo while Rushaga in the south as well has Mishaya, Nshongi, Busingye, Bweza and Kahungye making it 18 habituated gorilla families in Bwindi Impenetrable National Park. The gorillas are generally a gentle species that are considered to be highly intelligent because they have been observed, like other great apes using tools, and communicate using a variety of vocal sounds.
Over 350 bird species have been recorded in Bwindi and about 25 of them are Albertine endemics.
Activities in Bwindi Impenetrable Forest
Gorilla Trekking
Gorilla trekking is the most popular of the tourist activities in Bwindi Impenetrable National Park were you will get a chance to trek one of the few habituated mountain gorilla families in the forest. Depending on which region of Bwindi you are holding permits, experienced rangers, trackers and porters will accompany your party of eight persons on an early morning trek into the dense rain forest on the mountain slopes. The trek is through dense foliage and up steep climbs, is abundantly rewarded with the lifetime experience of viewing mountain gorillas in their natural habitat. You will have an opportunity to be within a few meters of these magnificent apes, sharing in their daily lives and experiencing their day-to-day activities. Mountain gorillas are extremely rare with only an estimated 1008 remaining in the wild. This is an experience you won't soon forget!
N.B:  Mountain gorillas are wild animals and, as such, sightings cannot be guaranteed. However viewing success rates are over 90%.
Community Village Walk in Bwindi
You can participate in any of the community walks through the local villages surrounding Bwindi Impenetrable Forest. Optional activities include visits to a traditional home, local orphanage or school, banana brewing demonstrations and even meeting traditional medicinal healers. This three to four hour walk is easily tailored to your individual schedule and interests. Village walks are popular in Buhoma, Rushaga and Nkuringo.
Batwa Cultural Experience in Bwindi
The Batwa people are commonly known as the Pygmies in most books and are abnormally short people who used to call Bwindi forest their home, however when Bwindi impenetrable forest was gazetted a National Park, they were expelled and have since started living a normal life. They used to feed on wild animals, gather honey and herbs and used to stay in trees and caves.
This three to four-hour hike to a Batwa village in the midst of Bwindi Impenetrable Forest will give you an opportunity to meet the Batwa elders and their families and learn about their culture. Through the assistance of a skilled interpreter you will discover the Batwa's unique traditions and practices including their deep attachment to the forest, their delicacies, how they harvest their food, the style of their homes, and their burial rites, you can also get a chance to learn how to light a fire with just a stick and how to shoot a target using traditional weapons.
Nature Walk Trails and Wild Photography
Visitors have an opportunity for a guided nature walk between Nkuringo in Bwindi Impenetrable Forest to Buhoma on the opposite side of the park. During this activity, you will have an opportune time to engage in Nature and Wildlife photography of your interest. Bwindi INP has a beautiful natural landscape, vintage wildlife viewing spots, mountainous terraces worth a memorable travel photo.
The three to four hour guided hike provides a leisurely opportunity to enjoy the sights and sounds of the forest, view the native wildlife, and learn about the many animal and plant species present in the park. You may meet the gorillas on your way through the forest. This walk can start from Buhoma to Nkuringo or from Nkuringo to Buhoma.
Accommodation in Bwindi Impenetrable Forest
Northern Sector of Bwindi (Buhoma): Gorilla Forest Camp, Volcanoes Lodge, Buhoma Lodge, Mahogany Springs, Gorilla Resort, Engagi Lodge, Silverback lodge, Lake Kitandara Tented Camp, Buhoma Community Bandas, and Bwindi Gorilla Conservation Camp.
Eastern sector of Bwindi (Ruhija): Ruhija Gorilla Safari Lodge, Gorilla Mist Camp, and Ruhija Community Rest Camp.
South sector of Bwindi (Nkuringo): we have Clouds Mountain gorilla lodge, Nkuringo gorilla Camp, Bwindi backpackers, Lake Mutanda resort and chameleon hill camp.
South east sector of Bwindi (Rushaga): Gorilla Safari Lodge, Ichumbi gorilla lodge, Gorilla Valley lodge, Nshongi forest camp and other small lodges
How get to Bwindi Impenetrable National Park
Bwindi Impenetrable National Park can be accessed by air as Aero link operates daily scheduled flights from Entebbe international airport to Kihihi Airstrip for the northern and eastern side of Bwindi( Buhoma and Ruhija sectors) and to Kisoro airstrip for the southern parts of Bwindi (Rushaga and Nkuringo sectors). The drive time from Kihihi or Kisoro towns to nearby lodges is approximately 1-2 hours.
When driving from Entebbe/Kampala to the northern part of Buhoma, it may take up to 9 hours and 10 hours if one is driving to Nkuringo or Rushaga. You can drive through Masaka- Mbarara, Ntungamo, Rukungiri, Kihihi, and Butogota and then to Buhoma or can path through Mbarara to Bushenyi, follow the Ishasha road to Kihihi and then Butogota town to Buhoma this route can also be used by those coming from Queen Elizabeth National Park. For those going to the south, they drive through Kabale town to Kisoro town and to respective regions.
Custom Gorilla Safaris
Can be adjusted to fit your travel needs. All inclusive African Safaris