Queen Elizabeth National Park
Location: Western Uganda
Size: 1978 Km Sq
Queen Elizabeth National Park is one of the most popular tourist destinations in Uganda, offering breathtaking scenery and abundant wildlife. This park is home to more than 600 bird and 95 mammal species, including lions, elephants, hippos, leopards, buffalos, hyenas, warthogs and various antelope species.
The park is the second biggest national park in Uganda laying, covering an are of 1978 square kilometers on the western arm of the rift valley. This park lies between lakes Edward and George which form part of the biosphere. This park is a system of contiguous protected areas namely, Kyambura wildlife reserve, Kigezi wildlife reserve and Kalinzu wildlife reserve.
Part of the park show off beautiful expanses of wide of crater lakes. Great adventure are conducted on the Kazinga channel, the Ishasha sector, Kasenyi fishing village, the equator and many other tourism features that you may come across while on an African Savanna wildlife game drive or a guided walk. Maramagambo forest is yet another reserve that is under this park and is home to giant rock pythons and bat caves that make this area so attractive.
A Classic African safari to Queen Elizabeth National park will let you encounter activities like game drives, boat cruises on the Kazinga channel, chimpanzee tracking in both Kyambura and Kalinzu wildlife reserves, salt mining in Katwe, forest walks in both Maramagambo and around the peninsula area, lion experience, bird watching and many more as these all depend on the time you have while in this park.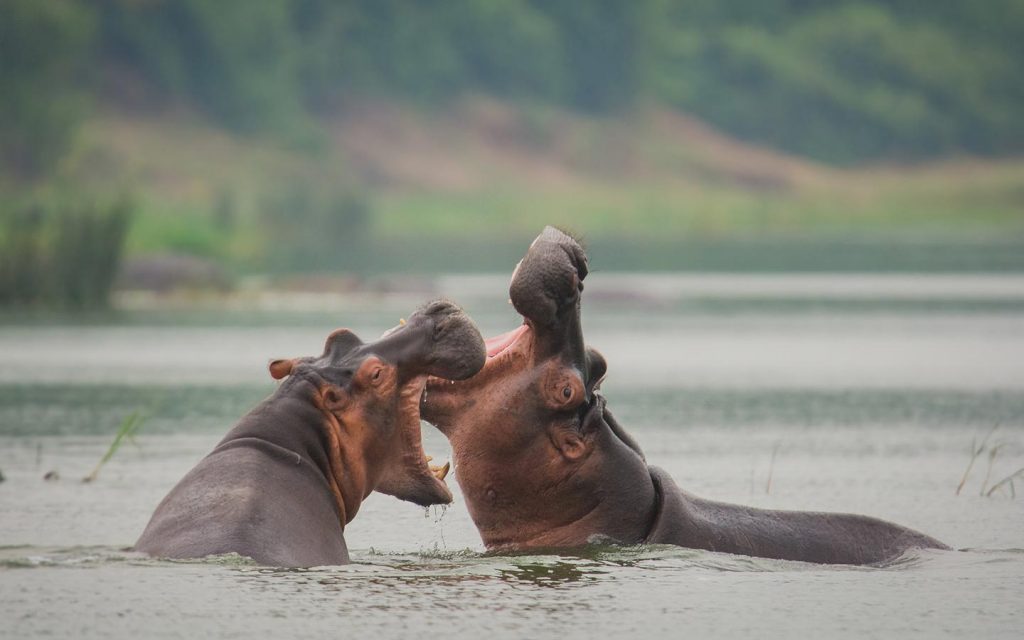 The park's position provides a  magnificent view of the rift valley floor that occupies Lake Edward and Gorge. Its well know to be a habitat of about 95 mammals along with 612 species of birds. Formerly, a historian known as Douglas Willocks talked about the various features that led to the formation of the park in 1952.
The area was strategically located with a stunning view of Mount Rwenzori, the plains and the composite jagged mass of mountains that are good for activities such as hiking.
On the other side of Lake Edward, there is a famous hill known as Mitumbe that look out to Congo. Its beauty is signified with changing colours from blue to green, with gentle slopes, distant and this makes it become the centre of darkness in Africa. The eastern part of the park is characterized by a peaceful green escarpment that is acquired from the western rift valley. The features are all covered with savannah making it a beautiful place full of nature euphorbia trees.
The park is so extensive furthermore adjacent to the other protected areas. For instance, Kigezi covering an area about 256km2 and Kyambura with about 154km2 wildlife set aside. The other areas include Kalinzu Forest reserve that adjoins to DRC with about 200km2 along Virunga National Park. Rwenzori National Park is about a few Kilometers to the North.
The grassland plains support a variety of animals which can be viewed from a vehicle on the network of tracks designated in the park. About 20 predators are found in the park such as lions, leopards, side stripped jackal and spotted hyena among others.
Common Antelopes species include the kob, bushbuck, topi and waterbuck. Other animals which can even be found at Mweya peninsular are; Buffaloes, elephants, warthogs and hippos. There are also various primate species are available in the park including chimpanzees, red-tailed monkeys, blue monkey, black and white colobus monkey, olive baboons among others. The Ishasha sector is famously known for its tree-climbing lions and it is also known to host the world's highest concentration of hippos.
Custom Uganda Safaris
Can be adjusted to fit your travel needs. All inclusive African Safaris