Mgahinga National Park
Location: South western Uganda / Kisoro District
Elevation: 2227m – 4127m
Size: 33.7 km sq.
Mgahinga National Park is part of the large Virunga Conservation Area (434km Sq.) ecosystem which includes two adjacent parks in Rwanda and Congo; Parc National des Volcans and Parc National des Virunga respectively.The park is a cultural heritage featuring in the history, folklore and traditional healing practices for local people; Mgahinga covers the north slopes of the three northern Virunga volcanoes; Muhavura (4127m), Gahinga (3,474m) and Sabyinyo (3,645m).
The park derives its name from Gahinga a Kinyarwanda word for a pile of volcanic lava stone heaps around which cultivation is carried out and on the other hand, Muhavura means to guide and Sabyinyo means the "Old man's teeth".
The park is bordered to the south by Rwanda and to the west by DR Congo. While Sabyinyo is deeply eroded with a jagged crown and deep gorges and ravines, Gahinga has a swamp filled crater about 180m wide and Muhavura has a small crater lake about 36m wide at its summit.
On some of the steep mountain slopes are caves formed by lava tubes, one of them being the famous Garama cave located near Ntebeko, the park headquarters.
HISTORY
In 1930, the British administration established Mgahinga as a Game sanctuary to protect the gorillas and other wildlife. In 1941 Mgahinga Forest reserve was established to protect the forest with the animals and forests managed by different ministries. In 1989, growing international pressure led to the establishment of the Gorilla Game Reserve Conservation Project, with support from a private German Conservation organization, which worked with the Forest and Game departments to enforce laws, survey wildlife to develop sustainable tourism.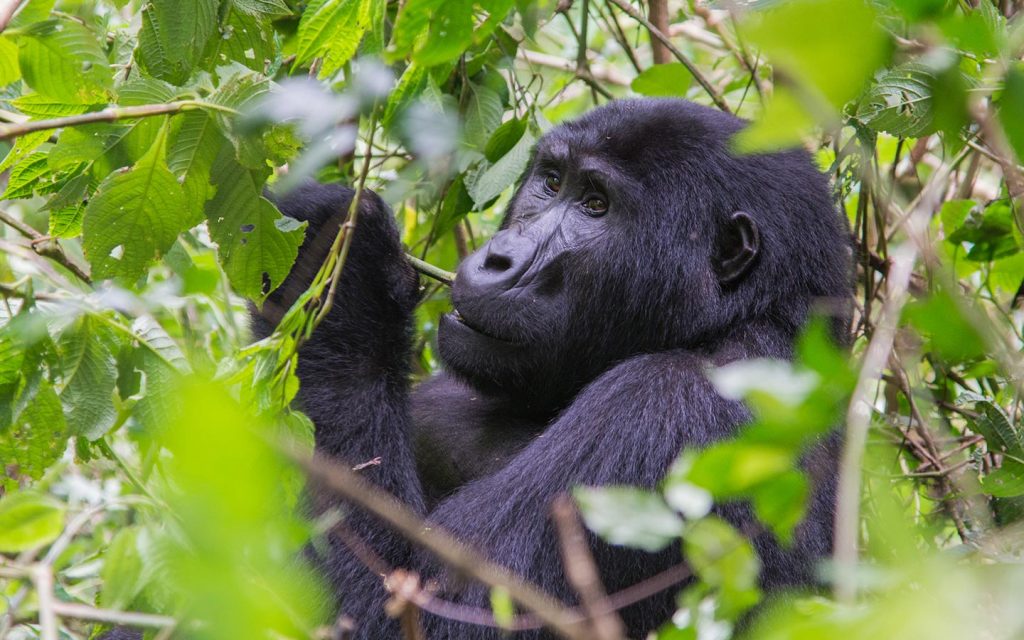 In 1991, Mgahinga Gorilla National Park was gazetted with the same boundaries as the original game Sanctuary. Mgahinga National park currently has one habituated Gorilla group/ Gorilla family known as Nyakagezi with Mark as the dominant silverback assisted by one subordinate silverback, two adult females and 2 infants.
Things to Do In Mgahinga National Park
Gorilla Tracking/ Gorilla trekking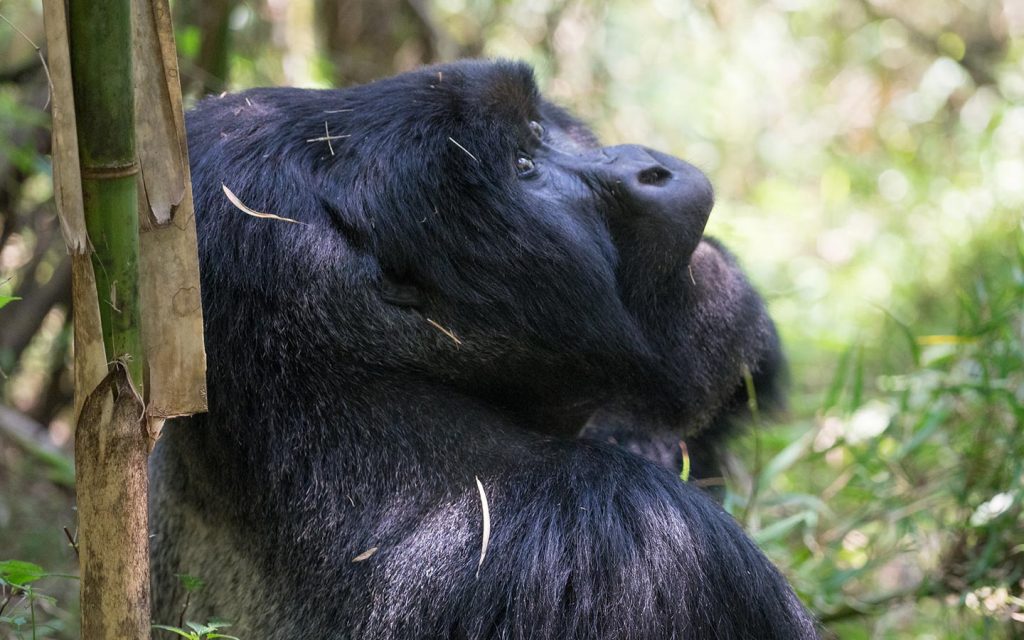 Gorilla trekking is the most thrilling activity in Mgahinga Gorilla National Park with Nyakagezi is the only habituated gorilla family in Mgahinga which consists of 9 members: 2 silverbacks, 3 adult females, 2 juveniles and 2 infants. However, due to the Mountain Gorilla's constant movement it is advisable to check the current location of the gorillas first.
Gorilla tracking/ Gorilla trekking can be strenuous and may take the whole day as Gorillas are wild creatures with no fixed routine and finding them requires the skill and experience of your trackers and guides, as well as luck.
The trackers and guides have helped to habituate the gorilla groups and know them intimately and will lead you through the gorilla's world, explaining aspects of their ecology and behaviour along the way.
Volcano Climbing/ Hiking
Mt. Sabyinyo (366m) – 'locally known as an old man's teeth'
Like an old man, the time has eroded Mt. Sabyinyo crown. Mt. Sabyinyo offers 3 challenging peaks to climb and a hike up the mountain will take you up a ridge along the eastern side to its peak. After which continuation to the second peak involves walking across the ridge with breath-taking drops into gorges of Rwanda and Uganda, a dual experience that you will achieve here.
Finally, the third peak hike is steep with several ladders and mush scrambling. Once on top, you will be in all the three countries; Rwanda, Democratic Republic of Congo and Uganda at the same time! What a triple experience this is!!! The journey takes about eight hours round trip to cover the 14km stretch.
Mt. Gahinga (3474m)
On your way to Mgahinga National park, look out for small piles of stones in the garden fields. The local people call such a pile a 'Gahinga'. Mount Gahinga is quite bigger than the average 'Gahinga' but sitting next to Mount Muhavura does make it look small. A hike, which takes you about, six hours round trip, goes through a good example of pure Bamboo forest. Gahinga once had a Crater Lake on top but time has changed it into a Lush swamp. Distance to the swamp is 8km.
Mt. Muhavura (4127m) – 'The Guide'
This volcano acts as a guide; it's seen from all over Kisoro and provides some of the best views in the countryside. Much of the climb passes a rocky surface covered by grass and small shrubs. Once at the top, hikers are rewarded with the views of the Virunga volcanoes in DRC, Lake Edward in Queen Elizabeth National Park, Bwindi and the peaks of Rwenzori Mountain. This hike takes approximately 8 hours with a round trip covering 12km.
NB: You are advised to camp at the Muhavura base camp the night before as the site has no facilities so you need a tent, water, food and sleeping gear.
Birding in Mgahinga National Park
Birding in Mgahinga Gorilla National Park will take you through some of the most beautiful sceneries around like the montane forest, the trail in the gorge between Sabyinyo and Gahinga and the bamboo trail.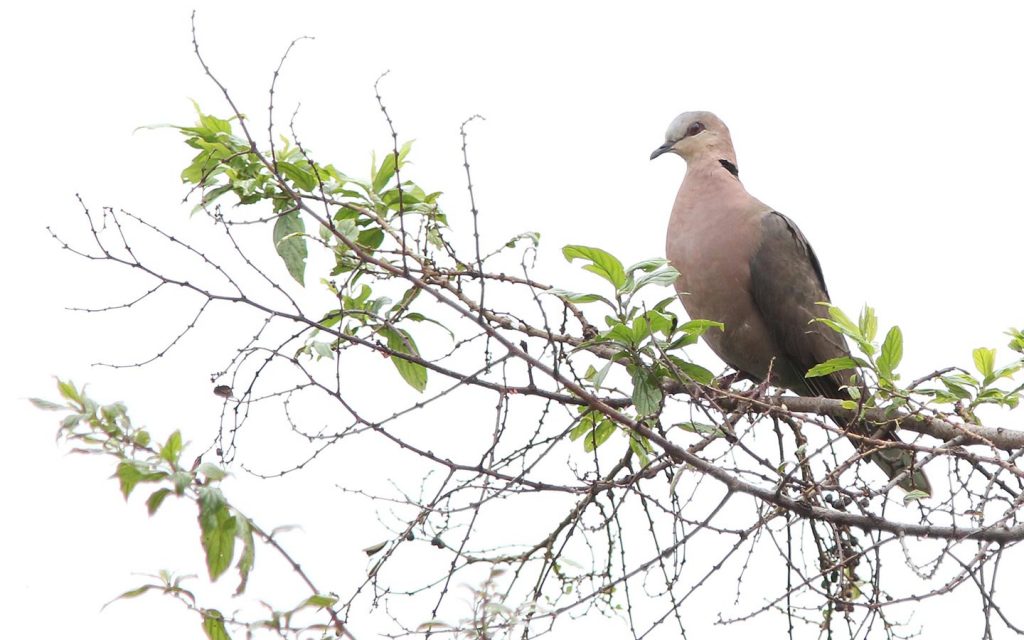 The gorge trail is blessed with unique birds like the; Olive thrush, regal sunbird, blue-headed sunbird, Rwenzori batis, cape robin cat and bronze sunbird.
In total 79 bird species have so far been recorded within the park, including several species that are endemic to the East Congo Montane region, and the Virunga Conservation Area as a whole has over 295 species in the Virunga's  that are endemic to the Albertine rift Afromontane region representing 59% of the total of known endemic species.
Accommodation near Mgahinga National Park
Virunga Hotel
Lake Mutanda resort
Clouds Mountain Gorilla Lodge
Traveler's Rest
Gahinga Rest Camp
How to get to Mgahinga National Park
The road distance from Kampala city to Kisoro (Mgahinga National Park) is about 540 km (9-10 hours) and is a scenic drive characterized by a mountainous landscape when approaching the Kigezi area, involves ascending while meandering through the never ending Kigezi hills, this is an experience that will give you breath taking sights of steep slopes and crater lakes tucked between the hills.
Likewise, you could opt for a domestic flight from Entebbe International Airport or charter flight from Kajjansi airstrip to Kisoro Airstrip where your driver-guide will pick you up.
Custom Uganda Safaris
Can be adjusted to fit your travel needs. All inclusive African Safaris