CHIMPANZEE AND PRIMATE TRACKING
About Chimpanzees
The average weight of an adult well grown male chimpanzee is between 35 and 70 kilograms, with a height of approximately 3 meters whereas the adult female chimpanzee weighs between 26 and 50 kilograms and a height between 2 and 4 feet. A chimpanzee's life expectancy is at 40 years whereas that for those living in captivity can extend up to 60 years.
In Uganda today, Efforts towards chimpanzee's conservation are extensively acknowledged and well supported. Actually, the Jane Goodall Foundation has played a major role in the overall conservation of not only these Chimpanzees but Gorillas in Uganda as well found; therefore, by going for chimpanzee tracking experience, you directly contribute to the conservation efforts.
Chimpanzees are the closest relatives to humans sharing about 98% of their DNA composition with humans. They are Sociable, intelligent as well as communicative and among their very fascinating traits is the ability to utilize tools like rocks for crushing nuts, empty pods for hollowing out water plus sticks for capturing termites from their holes. These skills have for long been passed on from one generation to another and researchers have discovered that; different troops have specialist tasks, basing on their habitat as well as diet.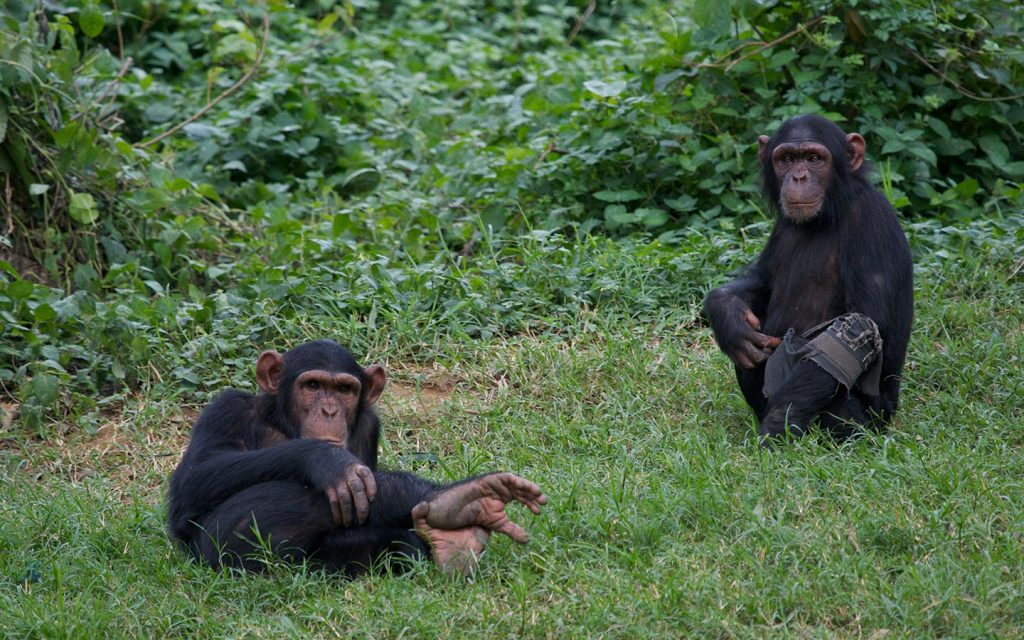 Chimps stay in groups of 10 – 100 members and they can babysit each other's young, kiss, groom one another and even hold hands. The young chimps become independent at the age of 4 years. Nonetheless, chimps can be aggressive and unsociable, if disturbed. Although they spend most of their time on ground, they normally feed and make their sleeping nests up in the trees.
The Chimpanzee Diet
Chimpanzees are diurnal (however frequently active on well moonlit nights) and start their activities at sunrise. On climbing down from their night-nests they excitedly feed on various fruits (which are their main diet), and leaves, seeds, buds, flowers as well as blossoms, although they have been spotted killing smaller monkeys for food. After some time, their feeding turns out to be choosier, picking out just the ripest fruits using their hands, although they eat berries and seeds directly using their lips off the stems. Their diet comprises of close to 80 diverse plant foods. Chimpanzees also supplement their feed with meats, like young antelopes or even goats. However, their most common victims, are other primate species like young baboons, blue monkeys as well as colobus monkeys.
Chimps use some tools like sticks for gathering termites, rocks for crashing open nuts in addition to many other items. They use branches as well as huge sticks as clubs and these they throw at their enemies such as leopards.
Behaviour of Chimpanzees
Chimps normally stay in groups known as troops, of about 30 – 80 individuals. The large groups consist of smaller, very supple groups of fewer members, possibly all females, or all males or at times mixed.
The Chimps from time to time chew leaves to until they are absorbent and these they use as a sponge, by dipping them into the water and then suck-out the moisture. In addition, the chimps use twigs or at times grass stems as tools, by poking these into termite holes or ant nests on which the insects cling and they eat; these are a delicacy to the chimps. They can cram nuts between roots of trees and then break open the shells using a stone.
Actually, Chimps are arboreal as well as terrestrial and spend most of their hours of daylight on the ground. The chimps are quadrupedal, so they walk fast on all their four limbs with their fingers half-flexed so as to support the great weight of the fore-quarters on their knuckles. They from time to time walk erect but only for very short distances.
Chimps are swift climbers and set up their nests high in trees and in there they rest during midday and later sleep in at nightfall. They build new nests in just minutes through simply bending branches, interweaving them to create a platform as well as lining the ends with twigs. There isn't a particular breeding season for chimps and the females give birth every four to five years.
Chimpanzee Safari in Uganda
Chimpanzee tracking in Uganda is will be a very fascinating experience during your African Safari holiday and adventure trip. Get prepared for the Kibale all-natural jungle today as you spend a number of hours tracking these impressive creatures. You will be allowed to spend some time-at most an hour with our fascinating relatives, as you observe them swing from one tree to another, feed, play about or progress speedily on the ground right in front of you.
Chimpanzees, as well as humans, share over 98 percent of their DNA. However, these being wild animals, chances of spotting these chimps are not always guaranteed although they are over 95% within the Kibale Forest, hence making it the most perfect destination in the whole of East Africa for chimpanzee tracking. It is in addition probable to take part in the fascinating habituation experience, meaning that you can actually get a chance to spend the entire day with this impressive creature.
Chimpanzee Tracking Destinations in Uganda
Kibale Forest National Park
Kibale Forest National Park Primates walk and Chimpanzee tracking is one of the most favourite activities around. It is characterized with walks from the Kanyanchu Visitor Centre at 08.00 & 15.00 and lasts 2 to 3 hours, Chimpanzees are the most sought-after primates by visitors, but you should look out for the black & white colobus, red-tailed monkey or the grey-cheeked mangabey. Your guides will be able to show you pittas & different bird species and will give details of the different plant species within the forest. This walk is for 6 people in a group. Advance booking is all-important, especially during peak season.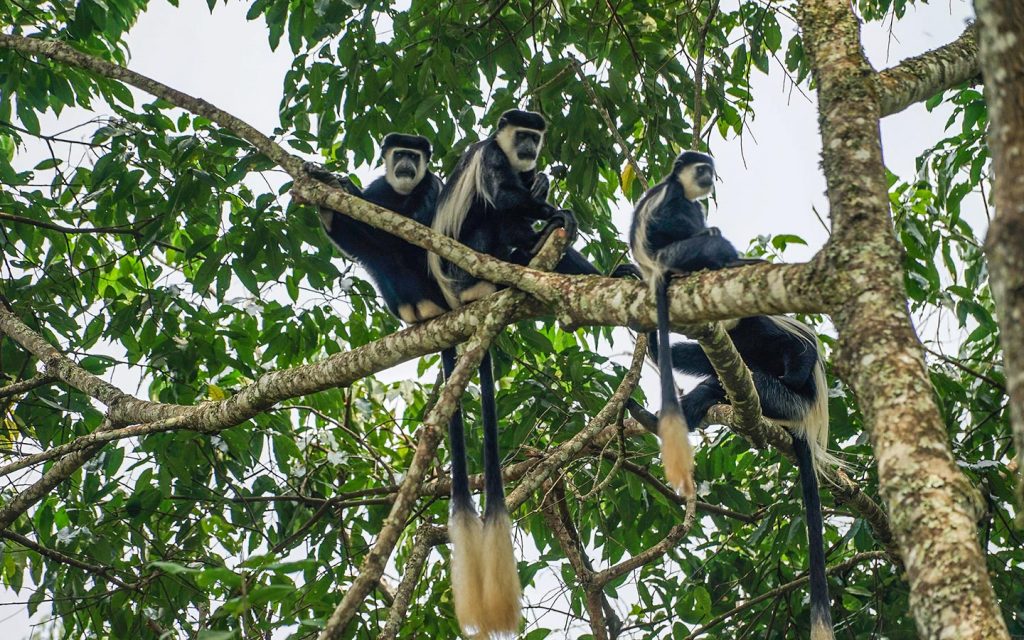 Kibale's most popular activity is the Kanyanchu Primate Walk. Three chimpanzee communities have been habituated for trekking in Kibaale and all trekking starts at Kanyanchu information centre after a briefing. Besides chimpanzees, Kibaale forest national park is a shelter to Vervet monkeys, Cush babies, Colubus monkeys, Blue monkeys, olive baboons, grey-cheeked Mangabey, red-tailed monkeys, Pottos, black and white colobuses and L'Hoest monkeys among others. Additionally, Kibaale offers the exceptional chimpanzee habituation experience, which allows travellers to spend extended time with their close relatives.
Thirteen species can be sought, and a good variety of diurnal monkeys invariably encountered, but the stars of this twice-daily show are chimpanzees. Kibale's most popular activity is the Kanyanchu Primate Walk. Thirteen species can be sought, and a good variety of diurnal monkeys invariably encountered, but the stars of this trail are the chimpanzees. Kanyanchu's chimps have been tracked since 1993 and the chances of locating them are excellent. Guided walks start at 8 am and 2 pm and last an average of three hours, depending on various factors.
The perennially popular primate walk provides the chance to observe chimpanzees in their natural habitat. Kanyanchu's groups are accustomed to human presence – some have been observed for over 25 years – and the chance of locating them is over 90%. Walks leave Kanyanchu Visitor Centre at 08.00, 11.00 and 14.00 and last between 2-5 hours. Early arrival to allow for registration and briefing is recommended. Contact time with chimpanzees is limited to one hour; group size is limited to six visitors; participants must be aged 16 or over. Advance booking is essential.
Kyambura Gorge "Valley of Apes" in Queen Elizabeth National Park
Queen Elizabeth National Park is among of the most remarkable national parks within Uganda for outstanding Wildlife as well as Bird-life, it also a perfect place to enjoy the popular chimp tracking/ trekking activity done within the Kyambura Gorge where there are several habituated Chimpanzees. Also known as the "valley of apes" Kyambura gorge is in the eastern section of Queen Elizabeth national park. Kyambura gorge is roughly 100 meters deep and home to the great chimpanzees.
The scenery within this gorge is very spectacular and there are several other mammals and birds to be seen as you start out in the morning on your chimpanzee trekking safari. Interestingly, chimpanzee trekking in Kyambura gorge is quite easy and takes limited time to meet these apes unlike in Kibale forest national park. This Chimpanzee Tracking activity within the Kyambura Gorge can be included to any other Uganda Safari activity within Queen Elizabeth and offers you a holistic adventure of this splendid national park.
Budongo Forest
Budongo forest is a yet the best place for chimpanzees trekking situated in Murchison falls national park. For those earlier chimp trekkers, Budongo has been ranked second to Kibale forest in offering memorable chimp tracking experiences. A visit to Budongo forest for chimpanzees is a not miss on your safari to Murchison falls national park and is surely worth doing. To trek chimps, travellers will need to be armed with a Tracking Permit going for as low as $80 USD in high season and $75 USD in the low season while east African residents pay $40 USD. Budongo forest is Uganda's biggest mahogany forest, which comprises of 465 tree species and is home to over 24 mammals, 290 butterflies and 140 species of moths. Kaniyo Pabidi and Busingiro ecotourism sites are also interesting to visit on your visit o Budongo Forest. Besides chimpanzee trekking, Budongo forest is good for bird watching and nature walks, which make it the best place to visit.
Kalinzu Forest
Kalinzu forest is yet another place to see the famous chimpanzees and is visited along with Queen Elizabeth national park. Kalinzu forest compromises of over 414 tree species hosting over 378 bird species among which include black casket, great blue Turaco, sunbirds, and white caskets among others. Also, Kalinzu is home to blue monkeys, black and white colobuses and vervet monkeys among others. You should also expect to see over 250 butterflies, 100 moths and various reptiles and flowers all at your disposal. Chimpanzee trekking in Kalinzu forest is done at a cost of $40 USD hence the best option for budget travellers. Other places to see chimpanzees in Uganda include Kagombe, Itwara, Kasyoha-Kitoma, Otzi, Muhangi and Wambabya all offering you a close encounter with these amazing apes.
The Chimpanzee Habituation Experience (CHEX)
Chimpanzee Habituation Experience is a lifetime experience that allows a company Kibale National park's researchers when habituating chimpanzees during their daily routine in order to get them used to human presence without changing their normal being.
Chimpanzee Habituation Experience (CHEX) is available on a full or half-day basis starting and advance booking for this activity is required. During your tour, expect to come across the chimps de-nesting (in their nocturnal nests) between 05.00 to 06.30, before feeding, copulating, hunting, breastfeeding, resting, patrolling and displaying until it is time to build new nests around 7 pm.
However, the Chimpanzee habituation Permit is quite expensive costing 220usd for foreign nonresidents, 200usd for foreign residents and 150,000ush for East African residents. Both trekking and habituation are life-changing and worth doing. The Habituation Experience by tourist for low season months of March, April, May and November. As a tour operator accredited by UTB we can ably provide you with travel services including Chimpanzee Habituation Experience booking in order to take your dream trip.
What to carry along when tracking Chimps
Wear shoes that have a good grip, suitable for climbing steep moist muddy slopes
A number of people actually feel more at ease when wearing clothes that are long sleeved as this will protect them from the pricking thickets as they move through the verdant jungle
Do not forget a rain gear, since the weather here is highly unpredictable
Bring enough drinking water plus snacks to bite on
Carry a pair of binoculars
If taking photos, keep in mind that your subjects are actually black animals living within dim light, so camera flashes is strictly not permitted. Better to have a fast film (of 400 – 800 ASA) or even utilize the settings on your camera.
Outback Top Safari Suggestions